I think I should not procrastinate my blogging about J. Otherwise when I go
senile
, I won't remember what happened to him last time. *hehehe* I hope I can remember my blog addy when I am senile.
MG
asked what happen if Jayden decided to just lie down flat in Pasar Malam when he is angry in my previous post. I will grab him and give him a smack and ignore him. And he will cry and stop within 10 seconds. Sometimes he'll get what I mean and sometimes he will continue to be a rascal and everyone goes home. No kai kai. 
He's quite a stubborn kiddo but when he is nice, he's super nice. Last weekend was smooth sailing for us cos the little one behaved alright. He went around AYANG (sayang) while stroking ppl's face.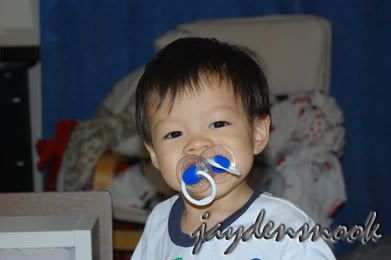 Yeap, still with his beloved ChitChit. Only wants the blue one and rejected the green one! Okay, that proved that my son is not colour blind. KaKaKaka
I went home last week with a special package from
Whoisbaby
. Thanks Anna!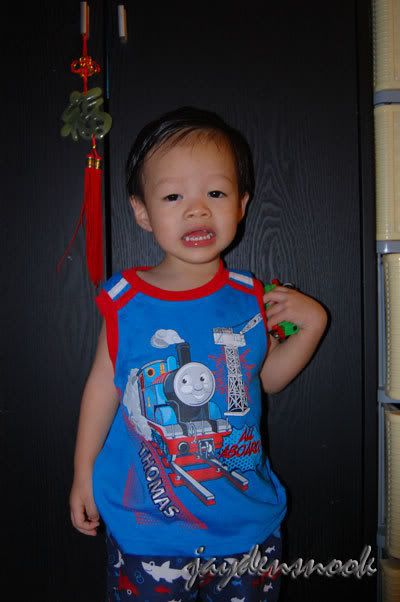 At first he was so excited to see the Thomas top but when he looked closely, there's no AWI (Henry) so he walked off. But then when I put it on for him on Sat, he looked pleased. When you ask him where is Thomas, he will pat pat his own chest.
The 2nd half of Sat, we're so busy preparing for my mum's 60th birthday BBQ.So it's off shopping in Carrefour. We even brought J for a haircut in the QuickCut place that costs us RM15. The hairdresser is quite nice. He gave J a sword balloon but the lil one liked his rolling chairs better. Then proceed with the haircut with 3 clowns (Dadi, Mami and my sis) entertaining him all the way without any crying at all. YAY! After that we went back to mum's to marinate the chicken and whatever things that we bought (my elder sis did all the work :P) and we went home quite late. *senget*
Sunday, I had the weirdest Curry Mee near my place. The curry mee came with just Mihun, CHIC and TauFuPok. And that's it. Since I took a bite of the Curry Mihun, so I cannot request to change it. They served me someone else's Curry Mihun. :S Luckily Jayden behaved quite ok by sitting quietly and eating his fish ball with his fav now, FORK. Otherwise I'll go gila.
Then we thought we can rest before the party, Mom wanted us to drive her to the temple to pray pulak!! So off we go la.. Boss panggil , what to do ? Lil J enjoyed the temple cos there's UWAK (cat) and got Nana (banana) to eat.
He finally agree to wear my shades. Last time he used to fling it away. Noticed shorter hair? It looked Mohawk now, like his old baby hairstyle. Need to buy some gel and gel it up for him. hehe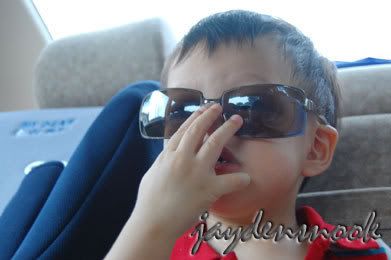 Now he can even push it back to the right place. hehe
While we're preparing for the party, mum kept saying "See, Do la.Do samo. See who susah now? What for wanna waste energy?" Do, kena. Don't do also kena. What is wrong with the old people??! Is your parents like this too?
Jayden with his cousin Jeremy and my BIL.
The lil one fell asleep during the party but woke up when we sang the birthday song. He even asked me to put back the candles for another round of sing-song. We've been buying small pieces of cake (errr a big one during cny) just for him to practise and prepare him for his big day. Hahaha
We went home quite late and the lil one was all charged up cos he took a nap during the party. Once reached home, he was playing with the mandarin oranges on the dining table. He aligned the oranges in a straight line and he looked at me with the cheeky grin. And guess what he did? He slowly put his forehead and touch the oranges, one by one, from left to right. You know why?
We watched Guinness Book of records on tv during the daytime and one of the event was 2 guys smashing watermelons using their foreheads (something like
this video
) and he was trying to imitate them! *pengsan* Aiyoh....have to becareful with what he watch on tv now.