I'm loosing my mojo to blog again. Sometimes when I wanna blog about something I'll think if I should blog about it or just forget about it. The most current question that will come into my mind is "who wants to know anyway?". 
According to
Yenjai
, my blog is lacking of pictures. I noticed it too. Probably cos I'm too tired to snap pic, or I'm just not happy with my picture-taking quality and skill or there's negative encouragement like
"eh eat la eat la. Don't take picture la. What for wanna take?"
(guess who said that?) Remember that my blog used to be so full with GIF images. Probably my model is moving too fast and I can't catch up with him with my big fat arse now. *sigh*
Anyway....sometimes looking at him enjoying the old pic that I have snapped before ( I have developed it and put it in an album) I never regret taking pics even when people said that I'm a crazy mother. Eat, shit, Sleep also wanna take pic. Everything also wanna write. So free meh?
Well, cannot meh? At least he is enjoying it now what. Looking at him looking at his old pic and laughing and giggling at his old funny look is just so... priceless.
These are some of his favourites:
Of course, this is a censored picture. When he see this pic he will say "bebid" (bebird). And he will say "Eyer" and make then say "Liu Liu".

He of course like this one because of the thomas and friends tupperware. He will turn the pic upside down so he can see the trains facing him.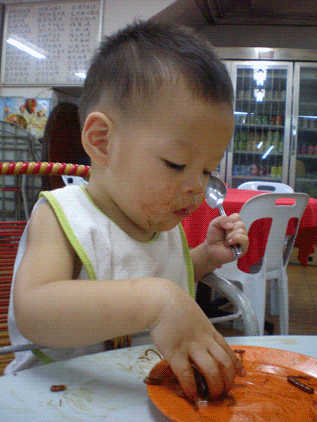 And he will say Eyer!!!! Diiiirty (dirty) when he sees this pics. Now he is more aware and careful when he eat especially when he is wearing his Thomas T shirts. Sometimes he will wipe his mouth with a tissue out of a sudden during mealtime.
Another of his fav. He wil point and giggle and giggle. I tried to teach him to say Funny but he end up giggling non stop and start to pinch his eye lids to tell me that he was wearing specs.
And not forgetting the picture from his first birthday. I'm glad that we celebrated his birthday for him although he (at that time) doesn't know what is happening.
Now he knows and remembered that we did for him,he will point at the cake and told me "Hepi!" for bday cake. Happy birthday ma...

So since I have someone that appreciate what I did so far, how come I'm still loosing my mojo leh? Or maybe..I just need to find new craving to give me ideas. Hmmmmm....