I better write something. Otherwise I will be so constipated like my blog!
So, how was your new year? Mine was *mumble mumble mumble mumble* like dat la. Long blablabla ahead. Maybe you want to skip and go straight to the pictures? :)
New years eve is always a headache for both of us (Big C and I) cos we wanna please everyone and make everyone happy.Big C wants to be with his side of the family and my mum still cannot accept the fact that I won't be around for new year's eve dinner after i got married. That's like 3 years already! Every year she will call and call and ask if I will be there or not. This year its the same old case again.
So to make everyone happy we hurried off to mum's before dinner. I ate some of her famous stew pork with abalone and sea cucumber *yum* and she asked again
"Got big prawn lo...but u dun want to eat..*sigh*"
. Then stay abit later, she will say
"wait a while la..sure u dun want to eat with us ah?"
The feeling is like *sigh*......
So it's like 10 mins more...10 mins more... 10 mins more until my uncle's family came and we sat down. We ate some and hurried off. Everyone was just quiet when I left. Do you know the guilty feeling? *sigh*
So we hurried off to Chan's cousin, Loke's house for dinner in Subang. I was telling Big C how susah it is, every year also the same story. He replied
"why you married chinese?"
Yeah hor? Why marry a chinese leh? Both my sisters married non-chinese and they're there for every occasion. And during christmas we have extra celebration. Big C, good suggestion ah..next time when I get married I will keep that in mind :P. (choi, tai ka laii si!)
Ppl were already eating when we arrived. Reunion dinner never state that everyone must sit down and eat ah..they only say eat together. So can eat in living room, kitchen, outside the house and etc etc. So that's what we did la. Yee Sang was the last dish because my BIL came even later that day. Must wait for everyone to lou sang ma..

So here's the YeeSang, all the way from Ipoh.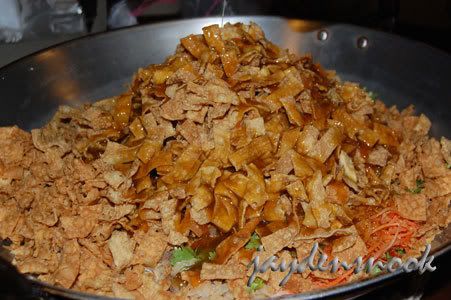 And everyone did the Lou-ing thing. Spot the kid! He also sibuk-sibuk wanna lou!
Took this pic while standing on a chair. Yeah, too short so need to stand on a chair. But still too short!

Then Igot down and tried to take a low-shot, mana tau the lou-ing comes from the bottom also! They never kasi chance the yee sang, they wanna hantam the yeesang kau kau!

Noticed that they used a wok for the yeesang? 2-Mai mah, how to fit in to normal plate?
This is the first time Lil J ate YeeSang. Last year he rejected it. He likes the pok-pok-chui thinggy.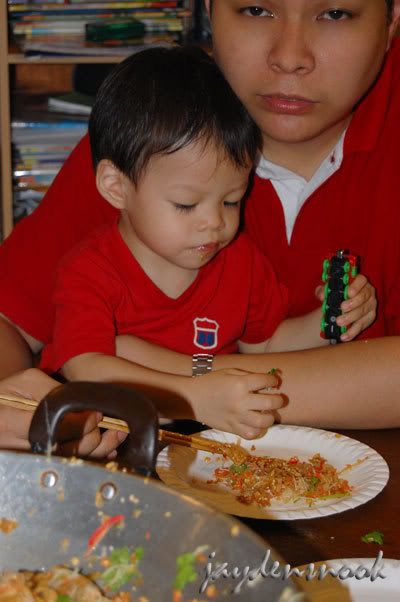 We went home early because everyone was like dead fish by end of the day. Moreover both Big C and I was working that day and I brought Lil J to my office. Lagi no rest *pull hair*. See la, if if I have the time I will blog about it.
And the lil one woke up the next day, in a very cheery mood.Rushed to the dining table, climb on it and searched for the pai-nien(visiting) stuff and handed it to me. He likes to say "here!"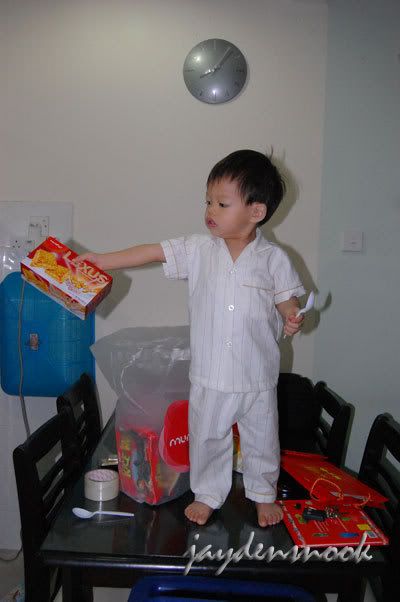 I took some pics using my Olympus camera.
Last time I forgot to bring the cable for my Olympus. (Lazy wanna bring dslr)
Today, I remember to bring the cable but I forgot to bring the camera!
muahahahahahahhahah

So that's all la for today, if I remember to bring my camera AND my cable tomorrow then maybe you can see somemore pics in the next post la.